Hello ! Who are you and what are you working on?
Qvault is a code-in-the-browser education platform with a focus on computer science (not just coding or web development)
My name is Lane Wagner I'm the technical and only founder. I work in Go and JavaScript mostly, and want to empower students that never went to university to be able to learn the fundamentals they probably missed out on in boot camps and other online courses


What motivated you to get started with? How did you come up with the idea?
I know many developers personally who never got a CS degree, and they struggle to move up in their career or to move to more techincally challenging positions
Can you tell us the story of your business from idea to where you are now?
I released the first course "Go Mastery" in June 2020. Since then I've been doing my best to build out the entire curriculum, with the goal being all the content you would consume in a CS degree at university.
I currently have 2,400 students signed up, and we are growing faster every day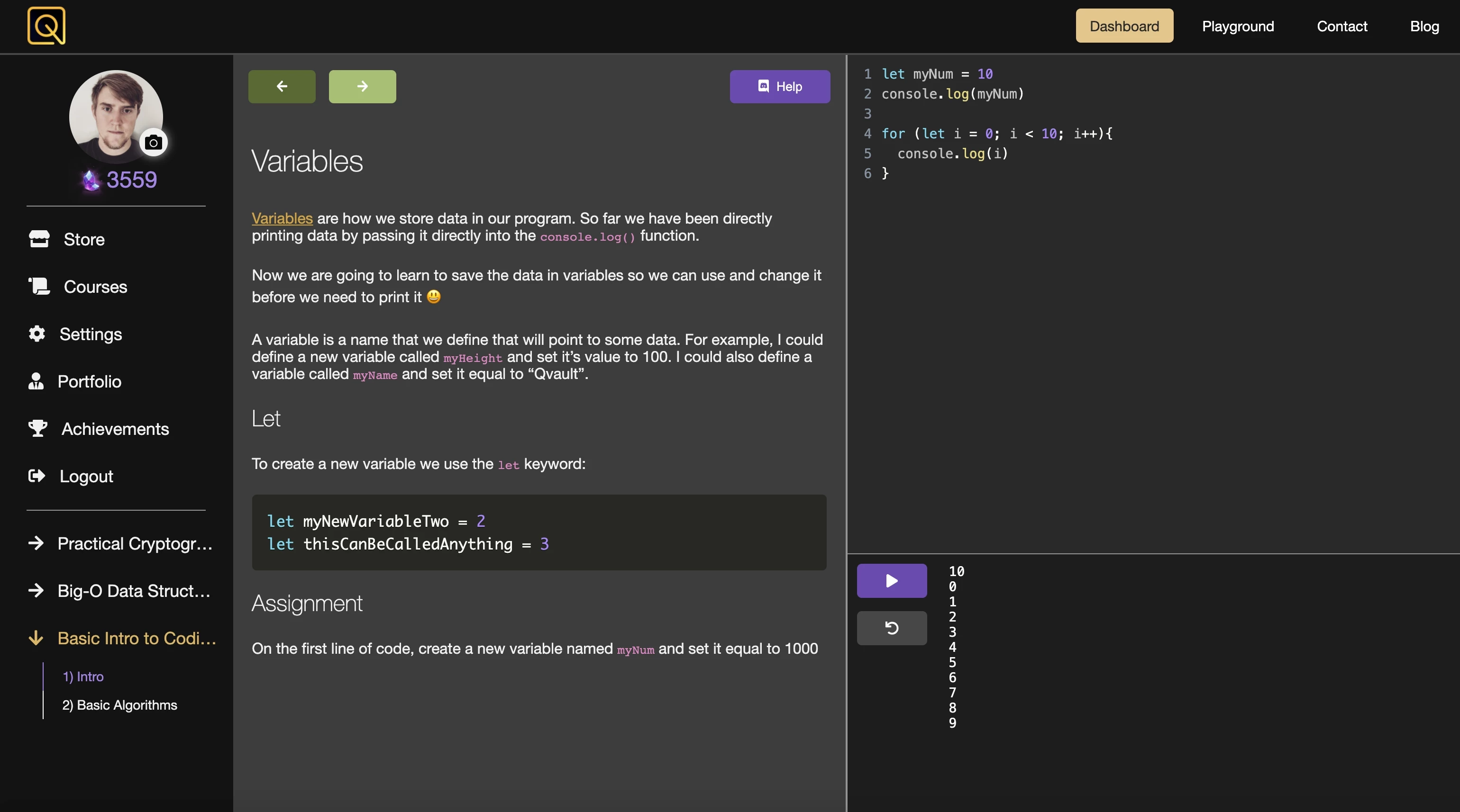 What has been your biggest failure or struggle?
My biggest struggle has been marketing and UI/UX. I'm a technical guy, and I do backend work at my day job. Trying to learn how to build beautiful customer experiences has been a huge learning curve.
How many hours a day do you work on average & can you describe/outline your typical day?
I have a day job still, so I'm only able to work 2-4 hours/day on Qvault. I typically spend 25% of my time writing courses, 25% writing blog posts (seo marketing), 25% building out the platform itself (coding) and 25% doing other marketing/business development type work.
And what has been your biggest achievement or success?
Getting 1,000 sign ups. That was such an awesome day, it proved to me that there is a need for this kind of platform.
Since launch, what has worked to attract and retain customers?
Launching new courses and doing promotions in existing coding communities has worked fairly well. I'm still trying different strategies to see what works best. Qvault's blog also has lots of followers and they regularly convert into students and customers.
Describe the process of launching the business.
I built the product, then I laucnhed it, then I promoted it organically.
Did you use Betalist or PH or other Startup Launching Platform for Launching ? How was that experience ?
Yes... but it was super underwhelming, I think I did it too early and with not enough experience. I'm hoping to relaunch in 2021 on those platforms after I've made "significant changes"
What's your business model, and how have you grown your revenue?
Direct sales of gems. Gems are the currency of Qvault, its a gamified platform where you can buy gems for cash, earn them for completing assignments, or y unlocking achievements. Those gems are then used to purchase courses.
What are the biggest challenges you've faced and obstacles you've overcome? What are your goals for the future?
Biggest challenge has been trying to break out of a linear growth pattern. I have been growing, but not at an exponential rate like I had hoped. It's been a slow grind. I've recently released refer-a-friend and affiliate programs to try to combat that slowness.
Let's talk about your marketing strategy -- how do you market QVault and grow the service?
Seo. Seo. Seo. I've tried paid advertising, and it just hasn't worked for me. The cost per click is waaaay to high for what I want to price-point of my courses to be. With that in mind, I blog away and pay some other freelance writers to blog as well.
Our Google traffic has been the main source of growth.
Do you have a model to get product feedback? What's your favorite way to get product feedback? Did product feedback help you get the results you hoped for ?
Yeah, I should have had a better model sooner though. The main two ways are through our Discord community (the link is on our contact page and is the "help" button in the courses) and then recently I've had a google form that students can fill out to get some free gems.
Through starting the business, have you learned anything particularly helpful or advantageous?
Market and get feedback first. Before even launching the product. This was hard for me because I'm a coder and engineer. I'd rather just build the damn thing.
What platform/tools do you use for your business?
AWS, golang, javascript, Vue, netlify, github, wordpress, mailchimp, stripe
Who's your most inspirational CEO or founder?
I guess me by default
What have been the most influential books, podcasts, or other resources?
Hmmm.. I haven't read any business books in a while to be honest. Back when I did though I really liked "Thinking fast and slow"
What's your advice for fellow aspiring entrepreneur who are just starting out?
Get so much feedback. Launch a sign-up form before you have a product. Offer rewards for feedback.